Asphalt Shingles
Roofing
Top-of-the-Line Asphalt Shingle Roofing Expertly Installed on Homes Throughout Sarasota & Manatee Counties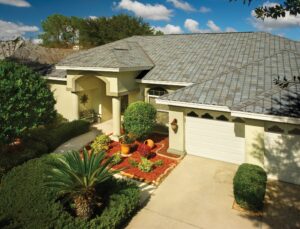 There are good reasons why asphalt shingle roofing is one of the most popular roofing options for homeowners in Manatee and Sarasota counties. Despite being more affordable than many alternative materials, asphalt shingles can provide long-lasting protection from the elements, as well as enhanced cub appeal. However, as with any home improvement products, quality varies widely. To ensure you receive an excellent value for your investment in a new asphalt shingle roofing system, turn to the experts at Grayhawk Remodeling. As a local roofing company based in Bradenton, we have built a reputation for providing:
Premium Products
Grayhawk Remodeling only works with the industry's most highly regarded manufacturers, including Tamko, Owens Corning, IKO, and Atlas to provide the best roofing shingles for our clients. All of the products we offer have best-in-class features to ensure that they can stand up to intense sun, driving rain, and strong winds year after year.
In fact, our asphalt shingle roofing comes with premium upgrades, including secondary water barriers, industry-leading impact resistance, and the ability to withstand a Category 3 hurricane. We also offer premium designer shingles, like Tamko Titan XT, which feature even more upgrades and offer unsurpassed benefits and features. Not only will our premium roofing equip your home with superior protection from the elements, but it may also help reduce your insurance premiums and boost your curb appeal. You can customize your roofing project with our wide collection of roof colors.
Exceptional Service
Even the industry's finest asphalt shingle roofing system won't perform as expected if it's not properly installed. That's why Grayhawk Remodeling has only highly experienced technicians with factory training complete all of our projects, ensuring the job is done correctly the first time. This allows us to back our work with industry-leading warranties. If at any point you experience a problem with your roofing system, you can call us – not the manufacturer – and we'll promptly handle it.
Additionally, we always go the extra mile to provide tailored solutions to our customers. For example, if you're roof has been damaged in a recent storm but you're not ready to invest in a replacement, we can provide a seamless repair.
Learn More
For more information about the asphalt shingle roofing that we install on homes in Sarasota and Manatee counties, contact Grayhawk Remodeling today. Or, come see us in person by stopping by our conveniently located showroom in Bradenton, FL