Bathrooms
Remodeling
Custom Bathroom Remodeling Solutions for Homeowners Throughout Manatee & Sarasota Counties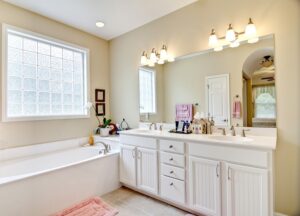 Whether it's your en-suite master bathroom or a hallway half-bath, you want the space to be functional and stylish. So, when the time comes for a bathroom remodel, don't settle for a company that provides cookie-cutter solutions that don't reflect your unique needs and style. Instead, turn to Grayhawk Remodeling. Based in Bradenton, Florida, we are the largest full-service home remodeling company serving homeowners in Sarasota and Manatee counties and have earned an unrivaled reputation for providing top-quality service and craftsmanship.
Our Process
At Grayhawk Remodeling, we're committed to providing our customers with truly custom solutions. When you partner with us, we'll begin the project with a comprehensive design phase. We'll get to know your needs and make recommendations. There will be no limit to what you can create, as you'll be able to select from virtually infinite types and styles of baths, showers, fixtures, flooring, lighting, vanities, and much more. We'll also create a custom, 3D design using CAD technology. This will allow you to see what your bathroom remodel will look like before making any final decisions.
Once you've approved the design of your custom bath remodel and we've acquired the necessary permits, we'll schedule your project at a time that is convenient for you. You can expect us to always show up on time and treat your property with respect. And, most importantly, your project will be handled by highly experienced and skilled bathroom remodeling contractors who always adhere to our strict standards for quality craftsmanship. In fact, our finish work is second to none, and we'll handle every detail of your bathroom remodel with the utmost care and precision.
What's more, when you work with us, you can have complete peace of mind that you're making a sound investment in your home. In addition to exceptional product warranties, we provide our own lifetime service warranty.
Get Started on Your Project
Contact Grayhawk Remodeling today to get started on your dream bathroom remodel. Or stop by our beautiful showroom in Bradenton, FL, at your convenience to speak with one of our knowledgeable representatives in person.