Patio Doors
Doors
Patio Doors for Homeowners in Sarasota & Manatee Counties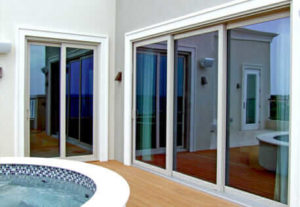 Patio doors bring the outdoors in by providing expansive views and flooding the home with natural light. As a result, they are often the centerpiece of a home's living area. If the patio doors in your home in Sarasota or Manatee County are dated, damaged, or poorly insulated, you'll be amazed at what the top-of-the-line replacement doors that Grayhawk Remodeling installs will do for your home.
Benefits of High-Performance Patio Doors
Based in Bradenton, Florida, Grayhawk Remodeling is the region's largest, full-service remodeling company. We are proud to offer only top-of-the-line products, maximizing the value our customers receive for their investments. For example, we only offer patio doors from the industry's most highly regarded manufacturers, such as PGT Custom Windows + Doors. Made from premium components, these doors provide industry-leading durability and a lifetime of exceptional performance. And, because your patio doors are essentially large windows, they are designed with insulating features to help keep your home comfortable and your energy costs under control. We even offer models with industry-leading impact resistance to protect your home during extreme weather.
Of course, you'll also get to select from a wide array of customization options, allowing you to create a patio door that is truly your own. Choose from sliding and hinged styles as well as many different frame colors, hardware options, and much more.
Expert Installation
When you partner with Grayhawk Remodeling, you can expect to receive outstanding service that begins the moment you contact us and extends well beyond the completion of your project. We'll help you select the perfect patio door for your home and have only trained and experienced technicians handle the installation, ensuring it meets our strict quality standards. What's more, not only are our patio doors covered by the industry's best warranties, but we also provide our own unconditional lifetime service warranty – unrivaled protection for your investment.
If you'd like to learn more about the premium patio doors we install in homes throughout Manatee and Sarasota counties, contact Grayhawk Remodeling today. Or stop by our showroom in Bradenton, FL, to see our products in person and speak with a knowledgeable member of our remodeling team.