Doors
Customizable entry doors
Make a great first impression with an entry door that is completely tailored to your unique tastes. Made from fiberglass or steel, your new door will last a lifetime with minimal maintenance required.
Learn More
Bring the outdoors in
Enjoy expansive views and flood your home with natural light with our top-of-the-line patio doors. Like our windows, they offer industry-leading thermal performance, beauty, and impact resistance.
Doors
High-Performance Exterior Doors Expertly Installed in Homes Throughout Sarasota and Manatee Counties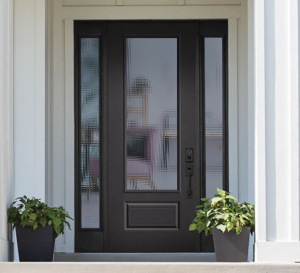 When it comes to home improvements, replacing exterior doors isn't typically at the top of most homeowners' to-do lists. However, if the doors on your home are damaged, worn, or outdated, there are several compelling reasons to prioritize having them replaced. Doors have an outsized impact on curb appeal, so even if you're satisfied with the rest of your home's exterior, a dated entry or patio door can prevent your home from having a polished appearance. Additionally, old or damaged doors usually allow air infiltration, which can make it difficult to keep your home comfortable and your cooling costs under control.
Based in Bradenton, Florida, Grayhawk Remodeling is committed to providing homeowners in Manatee and Sarasota Counties with the best possible value for their investments in new exterior doors. We achieve this by providing tailored service, expert installations, and top-of-the-line products from the industry's most trusted manufacturers, including:
Therma-Tru
Plastpro
Neuma
Masonite
Florida Made Door
Our selection includes:
Front Entry Doors
Your entry door is the first impression visitors get of your home. Make it a great one with a beautiful front door tailored to your specific preferences. There are virtually limitless options to choose from, including styles, paint colors, glass options, hardware, and much more, allowing you to truly make your entry door your own. What's more, our exterior doors are made from exceptionally durable materials, such as steel and fiberglass to ensure they last a lifetime with no maintenance required. There are even advanced features available, such as foam-filled cores, to provide industry-leading thermal performance.
Patio Doors
Patio doors are essentially large windows. So, as with your windows, you'll want to choose products that provide outstanding impact resistance and energy efficiency. Grayhawk Remodeling is proud to offer patio doors with premium frames and glass packages to ensure exceptional resistance to heat transfer as well as protection from extreme weather. The advanced design and premium materials will also prevent the frame from warping or otherwise deteriorating, so the door will maintain a weathertight seal and remain easy to open and close.
Exceptional Service
At Grayhawk Remodeling, we've earned a reputation for providing first-class service throughout every stage of a project and beyond. Once our consultants have helped you select the perfect doors, they will be expertly installed by trained and experienced professionals who will pay close attention to every detail of the project. And, you can rest easy knowing that we'll be here to help you if there's ever a problem with your exterior doors, as we provide unconditional lifetime service.
As a local company based in Bradenton, FL, we are proud to have earned the trust and referrals of countless homeowners in Manatee and Sarasota counties. Contact us today to learn more about our exterior doors.