Hurricane Shutters
Windows
Hurricane Shutters Protect Your Home in Sarasota or Manatee County from Extreme Weather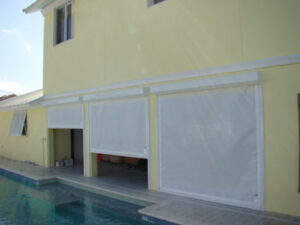 If you're a resident of Sarasota or Manatee County, then you're familiar with the devastating effects that hurricane season brings with it each year. Whether you or someone you know has been directly impacted by extreme weather or you've simply seen the destructive potential of these storms on the news, you're likely wondering how you can better prepare your home. One simple and cost-effective solution is to have hurricane shutters installed. This will protect the most vulnerable points of your home from high winds and impacts.
Of course, hurricane shutters vary widely in quality, and you want to be sure that your home is equipped with protection that is designed to withstand the most extreme conditions. For this, turn to the experts at Grayhawk Remodeling. Based in Bradenton, FL, we are the region's premier provider of top-of-the-line exterior remodeling products designed to withstand extreme weather.
Our Hurricane Shutters
Grayhawk Remodeling is proud to offer hurricane window shutters from Armor Screen®—among the industry's most trusted and innovative manufacturers. These hurricane protection products are available in an array of configurations, such as roll-up systems, that can be easily pulled down to protect your home and rolled out of sight when not in use. No matter which you choose, you can rest easy knowing they'll provide unrivaled protection as they are Miami-Dade approved, meaning they've met the most rigorous standards for wind and impact resistance.
Additional Solutions
In addition to hurricane shutters, Grayhawk Remodeling offers a full suite of products that are designed with extreme weather protection in mind. For example, we offer hurricane impact windows, roofing systems that can withstand a Category 3 storm, and even impact-resistant doors.
Contact Us
To learn more about the hurricane shutters and other impact and wind-resistant products we offer to homeowners in Sarasota and Manatee counties, contact us today. Or, stop by our beautiful showroom in Bradenton, FL.