Fiber Cement Siding
Siding
Top-of-the-Line Fiber Cement Siding for Homes in Sarasota & Manatee Counties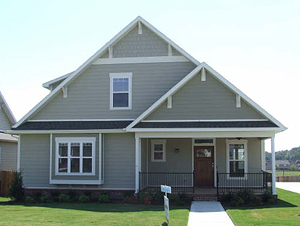 When it comes to a home's curb appeal, energy efficiency, and defense against the elements, siding plays a critical role. So, if the time has come to replace your siding system, cladding your home in Sarasota or Manatee County with a product that is designed to resist extreme weather, moisture, and insect infestation is certainly a wise decision. That's exactly what you can expect from the fiber cement siding system that Grayhawk Remodeling installs.
Based in Bradenton, FL, Grayhawk Remodeling has been a trusted source for exterior remodeling since 1987, so we understand which products perform best on Central Florida homes. The fiber cement siding we offer comes from the industry-leading manufacturer James Hardie® and is:
Exceptionally durable, as it is resistant to rotting, insect infestation, and moisture-related damage. It even offers superior protection against fire when compared with other types of siding
Finished using ColorPlus® technology—a proprietary baked-on finishing system that is highly resistant to fading so colors will remain vibrant for years
Manufactured for specific climate zones to ensure excellent resistance to heat transfer, helping to keep homes comfortable and cooling costs under control
The Industry's Best Service
In addition to offering fiber cement siding that provides best-in-class performance, Grayhawk Remodeling also has a reputation for excellence in every facet of home improvement. For example, we work closely with our customers to develop a solution that works with their unique needs, budget, and preferences. And, the quality of our workmanship is unparalleled. All projects are completed by specialized technicians who are extensively trained in best practices. We even provide an unconditional lifetime service warranty, so you can have complete peace of mind that your investment is protected.
For more information about the fiber cement siding we install on homes in Sarasota and Manatee counties, contact Grayhawk Remodeling today. You can also stop by our beautiful showroom in Bradenton, FL, to speak with one of our knowledgeable representatives in person.