Kitchens
Remodeling
A Custom Kitchen Remodel for Your Home in Sarasota or Manatee County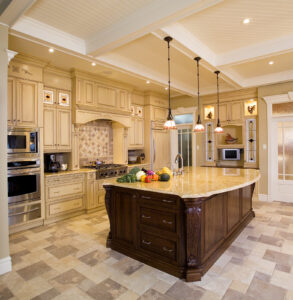 The kitchen is the heart of your home. It's where you begin your day with a cup of coffee, prepare meals for your family, and enjoy get-togethers with friends. If you've been dreaming of having a kitchen remodel that will transform this important space into one that is functional and reflects your unique style, don't wait any longer. Based in Bradenton, Florida, Grayhawk Remodeling is Sarasota and Manatee counties' most trusted kitchen remodeling contractors and can turn your dreams into a reality.
What to Expect When You Partner With Grayhawk Remodeling
Grayhawk Remodeling has maintained an exceptional reputation since our founding in 1987 thanks to our commitment to providing homeowners exceptional service and truly custom kitchen remodels. We never limit the options our customers have. Rather, we help them create spaces that they're sure to love for as long as they own their homes. One of the ways we achieve this is by providing a comprehensive design consultation. We'll get to know your needs and make recommendations based on your style and budget. Select from a virtually endless variety of:
Cabinetry
Countertops
Flooring
Lighting
Fixtures
This design phase will culminate with a custom CAD design, allowing you to visualize your kitchen remodel and make changes until you are completely satisfied.
Once your design has been finalized and we've acquired the necessary permits, Grayhawk Remodeling will have our team of highly skilled and experienced installers get to work on your dream kitchen remodel. We're proud to provide exceptional finish work, ensuring every detail is accounted for and that the end result is exactly as promised. We even have an experienced project manager oversee the entire process. And we provide an incredible, unconditional lifetime service warranty to provide you with complete peace of mind.
Learn More
For more information about why you should trust your kitchen remodel to the experts at Grayhawk Remodeling, contact us today. Or, feel free to stop by our beautiful showroom in Bradenton, FL, to discuss your project with one of our friendly and knowledgeable representatives.