Remodeling
Bathroom Remodeling
We're proud to provide completely custom bathroom remodeling solutions. We'll pay close attention to all the details to ensure you absolutely love the results of your project.
Learn More
Kitchen Remodeling
Are you ready to create the kitchen of your dreams? Grayhawk Remodeling provides custom designs utilizing CAD technology and can tailor your remodel to your exact specifications.
Learn More
Room Additions
Whether you would like to expand your home to accommodate a growing family or create an in-law suite complete with a full kitchen and bathroom, Grayhawk Remodeling will deliver results that you'll love.
Learn More
Lanai Enclosures
A lanai allows you to enjoy Florida living at its finest. Spend time basking in the beautiful weather all year long without having to contend with pesky insects.
Decks
Looking to get more enjoyment from your outdoor space? We can custom build a deck in your yard from durable, water-resistant materials, so you can soak up the sunshine year-round without having to worry about maintenance.
Remodeling
Comprehensive Home Remodeling Services for Residents of Manatee & Sarasota Counties in Florida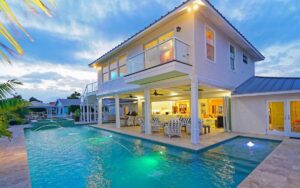 Based in Bradenton, Florida, Grayhawk Remodeling has long held a reputation for providing homeowners throughout Sarasota and Manatee counties with the best possible value on home remodeling services. Our comprehensive process, which has been carefully honed during our decades in business, enables us to exceed our customers' expectations – a fact which is evidenced by our outstanding reviews and A+ rating with the Better Business Bureau.
What We Can Do for You
As the largest full-service remodeling company in the region, Grayhawk Remodeling can bring virtually any vision you have for your home to life. Some of our most popular home remodeling services include:
Bathroom remodeling
Kitchen remodeling
Home additions
Lanai construction
Deck construction
As a design and build firm, we are able to handle every aspect of your project, from acquiring any necessary permits to performing teardown, plumbing, and electrical work, sparing you the hassle of having to coordinate with multiple contractors. What's more, our team includes certified designers who will work collaboratively with you and provide expert recommendations. This detailed design phase also includes photorealistic renderings of your project, allowing you to make changes until it precisely matches your vision.
When it comes to construction and installation, you can rest easy knowing that all of our home remodeling services are completed by experienced and specialized technicians. We utilize only top-of-the-line products in our remodeling projects, and the quality of our finish work is unmatched, ensuring exceptional results that our customers love. Perhaps best of all, we provide unconditional lifetime service; if you have a problem with a project we've completed in your home, simply give us a call, and we'll fix it for free.
Get Started on Your Project
Are you ready to transform your home in Manatee or Sarasota County? Contact the experts at Grayhawk Remodeling today to schedule a free consultation and learn more about our home remodeling services. Or, feel free to stop by our beautiful showroom in Bradenton, FL.