Flat Roofing
Roofing
Flat Roof Solutions for Homeowners in Manatee & Sarasota Counties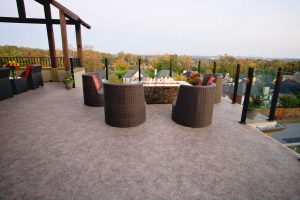 Your roofing system is the first and most important line of defense that your home in Sarasota or Manatee County has against the elements. So, when the time comes to replace it, you want to be sure to entrust the project to a skilled and reliable roofer who won't take any shortcuts. That's exactly what you'll find with Grayhawk Remodeling. We have technicians who specialize in specific styles and types of roofing, including flat roof systems. This ensures that, if your home has a low-slope area, such as a garage or porch, the replacement will be handled properly and provide year after year of leak-free performance.
Our Flat Roofing Systems
Based in Bradenton, Florida, Grayhawk Remodeling has maintained a reputation for excellence for more than three decades thanks to our commitment to providing exceptional service and top-of-the-line products. We understand the unique challenges that go into installing a long-lasting flat roof and have carefully curated a selection of products that will provide local homeowners with outstanding value and home protection. For example, we proudly install TPO roofing – our most recommended option – as it is incredibly durable, energy efficient, and long lasting yet highly affordable.
Additionally, we can install low-slope shingles from industry-leading manufacturers, such as Owens Corning and IKO that have advanced features to ensure best-in-class durability and water management over the long term. As flat roofing experts, we are able to perfectly match low-slope roofing to standard shingles on other areas of your home. This will provide a polished look. And, with so many styles and colors to choose from, you'll be able to create an aesthetic that reflects your style and matches the architectural design of your home.
What's more, Grayhawk Remodeling can even install a walkable flat roofing system from Duradek. This innovative product is made from a durable vinyl membrane, making it completely waterproof and able to withstand years of foot traffic. It's the perfect option for creating a luxurious outdoor living space with a beautiful view.
Service You Can Count On
At Grayhawk Remodeling, we're committed to providing roofing solutions that are ideally suited to our customers' homes and budgets. For example, we can provide flat roof repair as well as installation if we believe it will return your roofing system to like-new condition. We can even work with your insurance company to make sure you receive a fair payout for damage to your roof. What's more, we provide a 10-year, leak-free guarantee as well as a lifetime service warranty, so you can have complete peace of mind that your investment is thoroughly protected.
If your home has a low-slope or flat roof that needs to be replaced or repaired, don't trust the project to just any roofing company; turn to Grayhawk Remodeling. Based in Bradenton, FL, we are Sarasota and Manatee counties' largest, full-service remodeling company with demonstrated expertise in everything we do.