Siding
Incredible James Hardie® siding
Our fiber cement provides superior energy efficiency and home protection when compared to other materials. Plus, it comes in a variety of bold colors and has an industry-leading fade warranty.
Learn More
A traditional look combined with incredible protection
Stucco is the perfect option for adding visual interest and classic charm to your home. It also provides long-lasting protection and can withstand long-term exposure to the harsh elements.
Learn More
Siding
Top-of-the-Line House Siding Expertly Installed on Homes Throughout Sarasota and Manatee Counties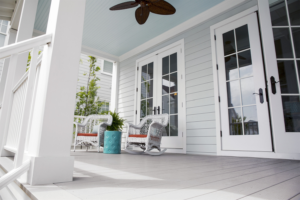 Siding makes up the majority of your home's exterior. So, if your siding system is damaged or outdated, it can result in a variety of problems ranging from decreased energy efficiency to water infiltration, which can cause mold growth and costly structural damage. Fortunately, you can turn to the experts at Grayhawk Remodeling for top-of-the-line house siding that will not only shield your home from the harsh elements, but also enhance thermal performance and curb appeal. Based in Bradenton, Florida, we have more than three decades of home improvement experience and have earned a reputation as Sarasota and Manatee counties' most trusted siding contractors.
Our Siding Solutions
Grayhawk Remodeling is proud to install premium fiber cement house siding from the industry-leading manufacturer James Hardie®. This siding is superior to alternative materials, such as wood and vinyl, in nearly every way. Most materials deteriorate with long-term exposure to the elements. For example, in the harsh sun and frequent rain, wood begins to rot, buckle, and crack, and vinyl becomes brittle. Fiber cement siding, on the other hand, is incredibly resistant to all forms of deterioration, providing better, longer-lasting protection. James Hardie house siding is even resistant to fire, helping to keep your family and home safe. What's more, it features ColorPlus® technology – a proprietary, baked-on finishing system – to ensure colors remain vibrant long into the future.
In addition to fiber cement house siding, Grayhawk Remodeling is a trusted installer of stucco cladding systems. Stucco is an outstanding choice for Florida homes because it is exceptionally durable and can withstand year after year of exposure to sun, rain, and wind. It is also available in a wide variety of colors and will continue to look beautiful for years with virtually no maintenance required.
Expert Siding Installation
Even the finest house siding products won't perform as expected if they aren't properly installed. At Grayhawk Remodeling, we get it right the first time by having only highly trained and experienced siding installers handle all of our projects. We also provide industry-leading service from the moment you contact us to long after your project has been completed. For example, all siding installations are overseen by an experienced project manager and someone on our management team is always easily within reach to address your questions and concerns. Perhaps best of all, we provide unconditional lifetime service, so you can be certain that you're making a sound investment in your home.
Grayhawk Remodeling is proud to be Manatee and Sarasota Counties' largest full-service remodeling company. Contact us today to learn more about the premium house siding products we install for residents of Bradenton, FL, and beyond.