Hurricane Impact Windows
Windows
Top-of-the-Line Hurricane Impact Windows for Homeowners in Sarasota & Manatee Counties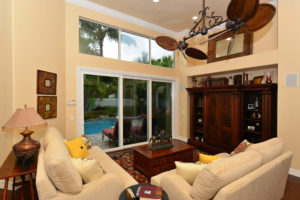 Living in Florida, homeowners enjoy plentiful sunshine and beautiful weather year round. It's truly an outdoor-lovers' paradise. However, Florida living is not without its downsides. Extreme weather, including hurricanes, is a common occurrence and can result in potentially devastating damage to your home. However, when you turn to Grayhawk Remodeling for hurricane impact windows, you can rest easy knowing your home is equipped with the ultimate protection from extreme weather.
Based in Bradenton, FL, we provide homeowners throughout Sarasota and Manatee counties with the industry's finest hurricane windows from PGT Custom Windows + Doors that feature best-in-class:
Impact Resistance
The hurricane windows we install are manufactured right here in Florida and are specifically designed to protect against impacts and high pressure caused by hurricane-force winds. Our replacement windows do an incredible job protecting the most vulnerable points of your home, and may even reduce your home insurance premiums.
Energy Efficiency
Our hurricane windows meet or exceed ENERGY STAR® guidelines thanks to advanced features such as low-E glass packages with optional gas fills and insulated frames. With these windows installed, it will be easier to maintain comfortable temperatures in your home, possibly reducing your cooling costs.
Customize Your Hurricane Windows
You might think that such outstanding impact resistance and thermal performance would come at the expense of beauty. But that won't be the case when you turn to Grayhawk Remodeling. Our hurricane windows are available in many popular styles and can be customized with your choice of frame colors, hardware styles, and other decorative options.
To learn more about the hurricane windows that Grayhawk Remodeling installs for homeowners in Sarasota and Manatee counties, contact us today. Or, stop by our beautiful showroom in Bradenton, FL.