What Are the Pros & Cons of Metal Roofing?
Jun 30, 2021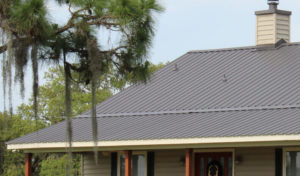 If you live in southwest Florida and are considering a roof replacement, you're probably looking for an option that can withstand extreme weather conditions. This is certainly a wise decision, as traditional roofing systems that perform well in other areas of the country might not hold up during a tropical storm or hurricane. You've probably come across recommendations for metal roofing for Florida homes. But is it right for your home? Read on to learn about the pros and cons of metal roofing.
Pros of Metal Roofing
Metal roofing has steadily increased in popularity because it offers many benefits that other materials simply can't match. These include:
Durability – Metal roofing is extremely strong, and the best products can withstand everything from strong winds to fallen tree branches without becoming compromised.
Longevity – Metal roofing lasts much longer than other materials and in many cases is the last roofing system that homeowners will need.
Energy efficiency – Many metal roofs feature reflective coatings that prevent the roof from absorbing radiant heat, thereby helping keep homes cooler.
Environmentally friendly – Most metal roofs are made, at least partially, from recycled materials and are themselves 100% recyclable, making them an environmentally-friendly choice.
Cons of Metal Roofing
Metal roofing is a great choice for many homeowners, but it's not without its downsides—especially if you choose a lower-quality product. The cons of metal roofing can include:
Expense – Metal roofing comes at a higher cost than other types of roofing, such as shingles. However, many homeowners find this price difference is made up for over the long run in the form of energy savings.
Noisy – Metal roofing can be noisy during heavy rainfall; however, it is worth noting that noisiness can be significantly reduced with proper insulation.
Maintenance – A quality metal roof that has been correctly installed will require virtually no upkeep. However, lower quality systems should be routinely monitored for standing water, as this can cause damage.
Metal Roofing Without the Downsides
At Grayhawk Remodeling, we proudly install premium metal roofing systems from Sunshine Metal Supply that are made with ultra-durable and long-lasting 24-gauge steel. We take a comprehensive approach to metal roofing installation, ensuring you enjoy all the benefits of a new metal roof without the maintenance and noise that is often associated with inferior products.
Contact Grayhawk Remodeling today and we'll be happy to tell you more about the pros and cons of having a metal roofing system installed on your home.