Roofing
Roofing
Trusted Roofing Contractors Serving Homeowners in Siesta Key, FL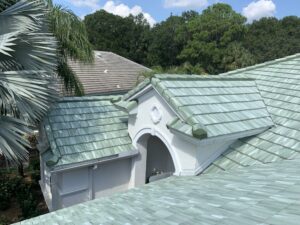 When you need a new roof for your home, you never want a one-size-fits-all solution. Rather, your roof should have specialized features and be installed a specific way to cope with the local climate. This is especially true in Siesta Key, Florida, where we experience year-long intense sun, heavy rainfall, and even the occasional hurricane or tropical storm. So which roofing contractor should you trust to put a roof over your head that you can be sure will be of the highest quality? The answer is simple: Grayhawk Remodeling.
Roofing Options to Suit Any Need & Budget
Unlike many other roofing contractors in the area, Grayhawk Remodeling offers a variety of roofing options to suit our customers' specific needs. Our team of experts will educate you about the materials we use, enabling you to make an informed choice for your home. Select from:
Asphalt shingle roofing – From trusted brands such as Owens Corning and Atlas, our asphalt roofs come in a variety of styles and are designed to weather the elements. We even offer options capable of withstanding a Category 3 hurricane.
Metal roofing – The metal roofing we install is unrivaled in its durability and energy efficiency. What's more, we offer options that can withstand a Category 5 hurricane, providing unparalleled protection for your home.
Tile roofing – Our tile roofing not only enhances the look of homes with classic Florida charm, but also increases energy efficiency and provides excellent protection from severe weather.
Flat roofing – We offer a variety of flat roofing solutions, including TPO roofing that is extremely durable and energy efficient. We also offer walkable flat roofing products—perfect for creating additional outdoor living space.
Industry-Leading Service
As your roofing contractor, Grayhawk Remodeling can always be trusted to look out for your best interests. For example, if we determine that your roofing can be adequately restored with a repair instead of a replacement, we'll happily provide one. We also install secondary water barriers and provide third-party wind mitigation reports to help with insurance premiums. Best of all, we offer an unconditional lifetime service warranty to provide you with complete peace of mind.
Contact Grayhawk Remodeling today to learn more about what makes us the roofing contractor of choice serving Siesta Key, FL.