Replacement Windows
Windows
The Importance of High-Performance Windows for Homeowners in Osprey, FL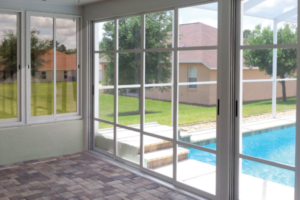 The windows in your home in Osprey, Florida, have several important roles to play. Windows are critical to home energy efficiency, and having high-performance models will go a long way toward reducing your cooling costs and making your home more comfortable. Additionally, windows have a significant impact on curb appeal and can determine how much natural light and ventilation your home has.
However, your windows' most important role is protecting your home. In Florida, extreme weather events, such as tropical storms and hurricanes are a regular occurrence. Your windows are the most vulnerable points of the home. So, if the time has come to have replacement windows installed, it's crucial that you select products that are suited to the regional climate.
Where to Turn for Top-of-the-Line Replacement Windows
Fortunately, finding exceptional replacement windows is as easy as turning to Grayhawk Remodeling. As the largest home remodeling company serving Manatee and Sarasota counties, we proudly offer premium replacement windows from trusted brands, such as PGT Custom Windows + Doors that:
Are rich with energy-efficient features, including insulated frames, multi-pane glass packages, and low-E glass coatings
Provide the industry's best wind pressure and impact resistance ratings, protecting your home and family during even the most extreme weather events
Are available in a wide array of styles, frame colors, and other customization options to suit your home and tastes.
Grayhawk Remodeling's replacement windows are installed by our own team of specialists who adhere to our stringent standards for service and workmanship. You can have complete confidence in us, as we not only provide a lifetime product warranty, but also an unconditional lifetime service warranty.
To learn more about what makes our replacement windows the clear choice for homeowners in Osprey, FL, contact us today.