Roof Repair
Roofing
Comprehensive Roof Repair Solutions for Homeowners in Lakewood Ranch, FL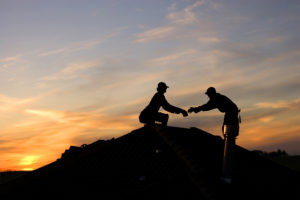 It's easy to panic when the roof of your home in Lakewood Ranch, Florida, is damaged due to wind or an impact from airborne debris. After all, your roof is your home's most important line of defense against the elements. When it's damaged, water can easily infiltrate your home, causing widespread damage. At Grayhawk Remodeling, we're here to put your mind at ease. Our full-service roof repair solutions will get your home back in tip-top shape in no time.
Our Roof Repair Process
Contact Grayhawk Remodeling as soon as you notice that your roof has been damaged. An expert will quickly visit your home to provide a comprehensive inspection. We'll then provide you with an honest assessment and detailed report. If we conclude that your roof can be adequately restored with a repair, we'll schedule the work to be done quickly. Our roofing experts have experience working with all kinds of roofing systems including asphalt shingles, metal, tile, and flat roofing. Rest assured, our roof repair will not only restore the structural soundness and weather resistance of your roofing system, but also blend in seamlessly to maintain your home's curb appeal.
Whether the damage to your roof requires only a simple repair or a full roof replacement, we'll make the process as easy and stress-free as possible. For example, we can meet with your insurance adjuster at your home and ensure that the damage is accurately assessed. This will ensure that you receive fair compensation. Additionally, if the damage to your roof requires a replacement, we'll provide a free, third-party wind mitigation report, which may help to reduce your insurance premiums.
Call Now
If the roof of your home in Lakewood Ranch, FL, has been damaged, don't delay. Contact Grayhawk Remodeling right away to ensure your roof repair is handled properly.