Roofing Contractors
Roofing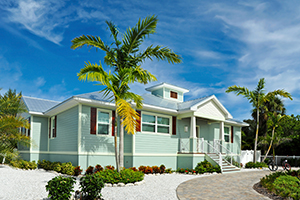 Need a Roof Replacement in Gulf Gate Estates, FL? Turn to the Leading Local Roofing Contractor
Roofing is a critical component of any home. However, for homes in Gulf Gate Estates or anywhere else in South Florida, having a high-performance roofing system is particularly important. After all, your roofing system has to contend with year-round intense sun as well as strong storms, including the occasional hurricane. So, if the time has come to replace the roof on your home, you'll want to choose roofing contractors that you can rely on to provide the right products and install them with the utmost skill and expertise. You need Grayhawk Remodeling.
Premium Roofing Systems and Replacement Service
Unlike many other roofing contractors, Grayhawk Remodeling doesn't limit our customers' options or push products based on our own profit margins. Our goal is to educate our customers and guide them toward making the right decision for their homes. That's why we offer a wide variety of roofing systems and options for homeowners. Our team will meet with you and walk you through your options to help you make an educated decision about what is best for your home. We specialize in the installation of the following roofing materials:
Asphalt Shingle
Asphalt shingle roofing option is popular because it is highly cost effective without sacrificing durability or style. We proudly install premium shingle roofing from trusted names, such as Owens Corning, that offers outstanding protection and longevity.
Metal
The metal roofing we install is made from incredibly durable G-90 steel. Beyond being able to withstand a category 5 hurricane, this roofing system provides unrivaled energy efficiency. And with a lifespan that can stretch several decades, you won't have to worry about replacing metal roofing for a long time.
Tile
Tile roofing is coveted because it offers traditional beauty that is perfect for many Florida homes. However, the tile we install is more than just beautiful, as it offers excellent defense against extreme weather as well as outstanding thermal performance. Plus, tile roofing is easy to repair and can last longer than almost any roofing system with proper maintenance.
Flat Roofing
We install durable TPO as well as premium asphalt shingles designed specifically for low-slope areas. We're even able to create elevated outdoor living spaces from flat spaces on a home's roof and help you utilized the full potential of your roof.
Roof Installation From Trusted Local Professionals
Homeowners throughout Florida have likely encountered inexperienced roofers offering cut-rate roof replacement services after a large storm rolls through the area. But at Grayhawk, we do things differently. We're dedicated to helping our customers and neighbors with premium products and unmatched expertise. You can rest easy knowing that an experienced and knowledgeable local roofer has your back.
To ensure your roofing system performs as it was designed, it needs to be properly installed. Grayhawk Remodeling has a team of factory-trained and –certified roofing contractors work on all our projects, ensuring they are completed correctly the first time. We also offer a 10-year leak-free warranty as well as an unconditional lifetime service warranty, so you can have no doubt that you're making a wise investment in your home.
Your Source for Expert Roof Replacement
If it's time to upgrade the roofing at your home, turn to the team that locals have trusted for over 30 years: Grayhawk Remodeling. Contact us today to learn more about what sets us apart from other roofing contractors serving Gulf Gate Estates, FL, and schedule a roof inspection at your home to get started.