8 Types of Windows for Your Florida Home
Jan 05, 2023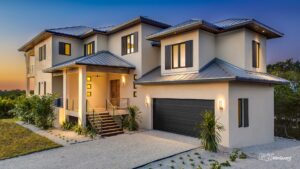 Are you ready to replace your windows? Windows can make all the difference in your home's ventilation, views of the outdoors, energy efficiency, and curb appeal. With those features in mind, it is also important to find a window contractor that understands Florida's climate including its high humidity. With a reliable contractor by your side, you can rest assured that you're receiving durable windows that meet your needs. Let's discuss the best window types for Florida homeowners.
Replacement Windows
The most popular types of replacement windows include:
Casement Windows
These windows open like French doors, rather than sliding open and closed. With this innovative functionality, you won't have to worry about your windows getting stuck halfway open or closed. Casement windows also offer an unobstructed view of the outdoors and are easier to clean than most windows.
Single-Hung Windows
This type of window can be opened via a bottom sash that slides upward. Single-hung windows can be difficult to clean since you must reach underneath the window to clean the other side (if in a multi-story home). However, these windows are cost effective and offer a good amount of ventilation.
Double-Hung Windows
Double-hung windows are very similar to single-hung windows. The difference is that double-hung windows open at the top and bottom sashes, allowing for more ventilation and easier maintenance.
Bay Windows
Bay windows are designed as three windowpanes that project outward from your home. This offers a unique space such as a kitchen nook, reading space, or display for knick-knacks. Since these windows are quite large, they also provide a lot of natural light for your home and can be eye-catching for your curb appeal.
With bay windows, you can have multiple window styles in one installation. Typically, bay windows are crafted with a fixed picture window in the center and the two windowpanes on the sides can be customized as casement windows, single-hung windows, or a variety of other window styles.
Bow Windows
Like bay windows, bow windows also project outward from your home and can be customized per windowpane. What makes bow windows different than bay windows is that they are crafted with four to six windowpanes. This offers a smaller, more curved appearance such as a half-moon shape.
Picture Windows
These windows offer unobstructed views of the outdoors, but they do not open. Fixed in place, this single windowpane does not open or offer ventilation. However, that means that picture windows are the most energy-efficient type of window on the market.
Sliding Windows
Sliding windows are designed to open horizontally in which one windowpane slides on top of the other. This allows for easy operation and a good amount of ventilation. These windows are also extremely durable and cost effective. However, cleaning them can be challenging due to their functionality.
Awning Windows
Awning windows are built with a crank mechanism and can be opened even when it is raining. These windows offer ample ventilation but can possibly be damaged by the elements.
Learn More
Contact Grayhawk Remodeling to learn more about the most popular types of windows among Florida homeowners. You can also schedule a consultation to get started on your window replacement project with any of the top-quality windows in our collection.