Do Hurricane Shutters Work?
Aug 30, 2022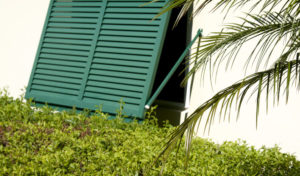 Yes, they do. And they are especially effective in Florida, where hurricane season spans six months, officially beginning on June 1 and ending on November 30. As confirmed by storms that devastated parts of the Sunshine State during the last several decades—including Hurricane Irma (category 4) in 2017 and Hurricane Andrew (category 5) in 1992—it is important for every homeowner to be prepared. The best way to do so is to have high-quality hurricane shutters professionally installed.
What Do Hurricane Shutters Do?
Hurricane shutters are designed to protect the most vulnerable parts of a building, such as the doors, windows, lanais, and other exterior glass surfaces, from damage caused by windborne debris. This is critical because a broken entry point can significantly increase the risk of a roof blow-off due to the high-velocity winds that develop during a hurricane. Therefore, the goal of hurricane shutters is to minimize hurricane damage by preventing an initial break.
Hurricane shutters are engineered and built to be impact resistant. More specifically, the Florida Building Code requires that hurricane shutters be rigorously tested and proven to withstand a specified pressure and load equivalent to those of a category 5 hurricane. Although they are not infallible (nothing is), they do work. In addition to protecting your home, hurricane shutters protect your family and help keep your belongings safe and dry.
Your Source of Reliable Protection in Sarasota & Manatee Counties
Grayhawk Remodeling is proud to install hurricane shutters from industry leader Armor Screen®. These state-of-the-art products, which are available as a roll-up system and in other configurations, meet the most rigorous standards for wind and impact resistance. In fact, they are approved for use in High-Velocity Hurricane Zones, including Miami-Dade County.
If you would like to learn more about hurricane shutters, contact Grayhawk Remodeling today, or stop by our expansive showroom in Bradenton, FL.